Art & Design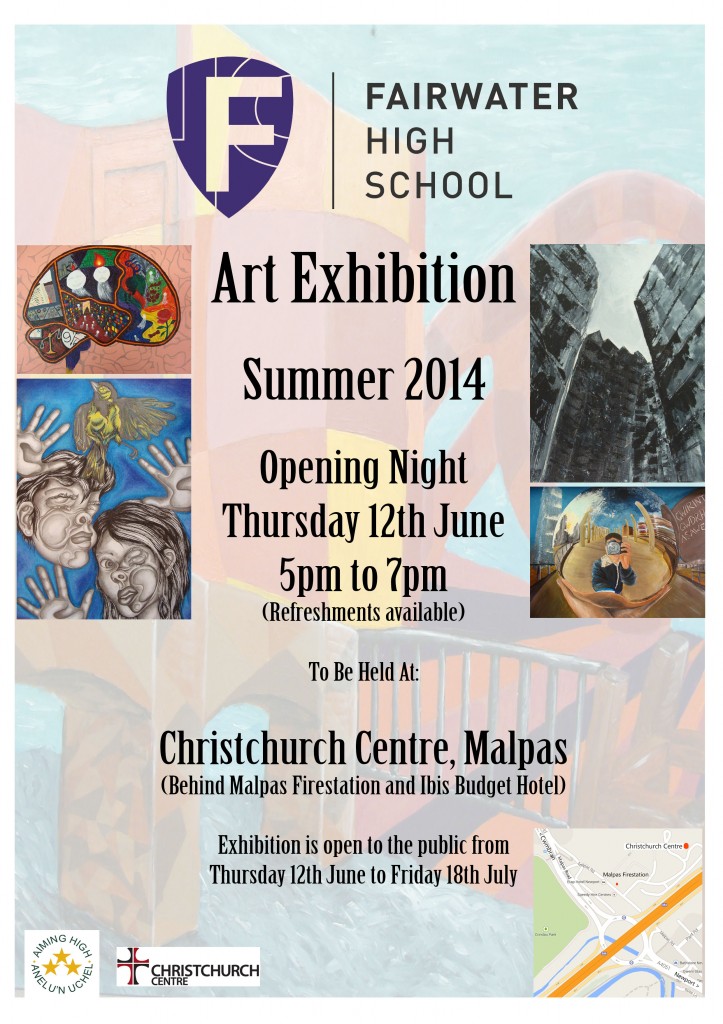 The Art department at Fairwater High School consists of specialist studios with specialist equipment tailored for teaching the all aspects of Art.
Schemes of work range from 2 Dimensional drawing and painting to 3 Dimensional work using paper-mache and mod-roc, wire sculpture textile design and ceramics. The department has pottery facilities and a dedicated kiln room. The department also has a suite of computers with Adobe Photoshop facilities which allows students to develop their artistic skills in digital media. Schemes of work are reviewed and modified regularly to provide up to date, exciting projects that provide engagement and challenge for the students.
Exciting classroom displays within the department, a caring nature of the staff and an open door policy allow for a safe environment where students  feel at home and  are encouraged to attend Art clubs at lunchtimes and after school to continue developing their coursework.
The Staff
The staff within the department have a breadth of knowledge and experience which allow all students to receive a high quality, inclusive Art education whilst developing a wide range of Art skills.
Staff Members
Mr P. Darmanin (Subject Leader of Art)
Mrs C. Evans (Teacher of Art)
Miss R. Phillips (Teacher of Art, Textiles and Design Technology)
Extra Curricular Activities
The department run regular lunchtime and after school Art Clubs where students are encouraged to come in and work on their coursework in a relaxed and friendly atmosphere.
Wednesday Lunchtime – Year 7 Art Club with Mrs Evans.
Thursday after school (3-4pm) – Art club for all other years and Year 11 Catch Up Sessions with Mr Darmanin.
Trips and Visits
Over the years, the department has run numerous visits to local galleries, landscape drawing trips to the coast and also Foreign study visits to Rome. This year Mr Darmanin is running the up and coming trip to Paris at Easter 2014. The trip is a 5 day tour which is open to students from years 8, 9, 10, 11 and Sixth Form. There are currently still a few spaces left. Please see Mr Darmanin for information.
Competitions
Annual competitions are run internally to design the school Christmas Card. This year the competition was won by Rebecca Brabon in year 8. As part of her prize, she was able to visit the local printers to see her card being developed professionally. 2nd Place was Aimee Cooper in Year 9, 3rd place was Kia Bielski in Year 7 and Runner Up was Elysia Evans in Year 9.
Young Gwent Artist of the Year Competition
This year we had three Year 11 students entered in the 'Young Gwent Artist of the Year' competition run by the South Wales Argus. The students were Laura Donnovan, Nia Taylor and Lucy Marshall and had a range of work from illustration, fine art painting and 3D sculpture. All three students have been shortlisted and are currently on display in the Riverfront Theatre in Newport.
Results update: Lucy Marshall came 1st in the '13-18 year old' category and Laura Donovan won the 'Gallery Visitors Choice' award. We are extremely proud of all the girls who entered the competition.
Community Links
The department has made links with the local community in a number of ways:
Visits from Local Ceramic Artist Matthew Jones – Matthew Jones came in to speak to students about his ceramic business and how he went about setting up as a professional artist. He also demonstrated how to create a pot on the pottery wheels and students were able to have a go at creating their own ceramic pottery on the wheel.
The Art department are currently creating Art work for Coed Eva Primary School and Crownbridge Special School with students in the Sixth Form as part of their BTEC Level 3 Coursework. This will also assist with the community aspect of their Welsh Baccalaureate studies.
The department hope to continue making links with the local community with future art projects.
Curriculum
Key Stage 3
Year 7
Students in year 7 are taught the basics of Art.
Autumn Term
Students begin with a Still Life project where they explore a range of 2D materials and learn about the basic disciplines including the formal elements in Art and develop skills in drawing and painting.
Spring Term
Students explore Portraiture and learn the basics of how to draw portraits. They look at the work of Archimboldo and experiment with collage. Students also learn about graphics and the art work that goes into designing food wrappers. This has cross curricular links with the Design and Technology department.
Summer term
Students explore their local surroundings through a landscapes unit. Students also study journeys to, and around school in the Aboriginal Art and produce their own Aboriginal style art work.
Year 8
In year 8, students develop upon the skills they have been taught in the previous year.
Autumn Term
Still Life painting focusing on the style of 'Henri' Matisse. Students develop knowledge of Colour theory and arranging compositions.
Spring Term
Students develop skills in portraiture focusing on Cubism and the work of Pablo Picasso.
Summer Term
Students study landscapes focusing on local surroundings and Welsh landscape artists whilst using mixed media. Some of the artists studied are:
Dorian Spencer Davies
Bruce Bleach
Sir Kyffin Williams
Year 9
In Year 9, students are taught and guided through the scheme of work to developing themselves as independent learners to prepare themselves for Key Stage 4. Students are encouraged to experiment with a range of materials, media and techniques and to develop their written and analytical skills which help to mature their literacy skills.
Autumn Term
Urban and Graffiti Art looking at the work of Banksy and the political backgrounds behind the birth of Urban Art as it is known today. Students explore lettering styles and ways Urban Art is created. Students are able to design and make a range of outcomes based on this theme.
Spring Term
Gargoyles. Students study the theme of gargoyles and produce portrait drawings which develop into a 3D outcome.
Summer Term
Egyptian Art. Students study the work of Egyptian art and have a choice of possible outcomes.
To develop students' creativity, the option of an independent study unit is offered which prepares them for taking Art as an option subject in Year 10.
Key Stage 4
Students are able to study the Vocational BTEC Level 2 Art and Design course where they are able to study a range of 2D and 3D vocational based units which allow them to achieve the Certificate in Art and Design. If students demonstrate exceptional performance they can be entered for the Extended Certificate or Diploma in Art and Design.
The course aims to give students an insight into the world of work as an Artist or Designer setting up a business within the Art and Design industry.
Certificate is equivalent to 1 GCSE
Extended Certificate is equivalent to 2 GCSEs
Diploma is equivalent to 4 GCSEs
Course and Unit information can be found at: http://www.edexcel.com/quals/firsts10/art/Pages/default.aspx
Key Stage 5
Students are able to study either the Vocational BTEC National Level 3 in Art and Design or A Level Art and Design courses. Students are expected to work independently with help and guidance from teaching staff.
Course and Unit information can be found at:
http://www.edexcel.com/quals/nationals10/art/Pages/default.aspx